Share this URL: https://weekendbotanicalartworkshop19jan.peatix.com/
Event is FINISHED
19 Jan: Botanical Art In Watercolour & Mixed Media Workshop With Botanical Artist, Lucinda Law at WITHIN


Cultivate and deepen your joyful curiosity for the nature world from an arts perspective. For each of the immersive botanical art workshop, you'll be tasked to achieve a set of group and personalised creative challenges and technical aims. You'll be given a progress worksheet to chart your progress for the individual workshops and across the weeks.

Through a series of demonstrations and one-on-one guidance by Lucinda, you will learn basic observation, photography, illustration and watercolour skills to improve on your technical presentation. You'll also acquire a range of holistic and creative tips to develop your confidence in arts and enrich your attunement with nature.

Ideal for beginners and all levels of art practitioners who wish to cultivate a nature-inspired art practice using watercolour, mixed media techniques and deepen their appreciation of nature. Classes are held in The Studio (Jalan Besar) or Pollen Restaurant at Gardens by the Bay (Terrace). The workshop at Pollen comes with a guided tour by Lucinda and drinks/pastry set by POLLEN.

Workshop Calendar
Term 1: Jan 12, 19, 26, Feb 2
Term 2: Mar 23, 30, Apr 6, 13
Term 3: June 1, 8, 15, 22

Venue: Within Studio (Jan 12, 19), Pollen (Jan 26, Feb 2). TBC for the term 2 & 3.

Time: 9:00am to 11:30am

Price: S$550 for 4 class packages or $995 for 8 class packages. Single-visit S$145.00.

$550 course fees includes:

- Choice of four workshops within 6 months period from the date of your first workshop.
- Botanical materials are provided all classes.
- You'll bring your own art materials and additional materials as we progress.
- Certain watercolour paint for specific training will be provided at certain workshops.

Flower Dome sessions
- Free entry to the Flower Dome.
- Guided tour of the Flower Dome by Lucinda before the class
- POLLEN breakfast set of pastry & a choice of beverage

Studio Sessions
- Botanical materials
- Refreshments

*Missed workshops which are cancelled outside the 12 hours cancellation window period are non-refundable.

What you'll learn:

• Essential guide to basic watercolour painting: Materials and everything you need to know to start your art practice confidently.

• Wet-in-Wet techniques: Conquering water versus paint ratio and control in water evaporation timing.

• How to mix and achieve attractive, translucency and vibrant mix/blend of watercolours without it turning murky or chalky.

• Colour mixing drills: how to unlock the magic combination of your colours in your palette.

• Essential troubleshooting tips rarely shown on online painting videos.

• Live and up-close demonstrations by Lucinda.

• Personal guidance to improve your techniques weekly. Everyone have different learning phases, so you'll pick up your own techniques/ challenges set by Lucinda personally for you from your last session based on your progress worksheets.

For students who achieved more than 8 lessons or have experiences in watercolour painting.

• Wet-on-dry: We simplify the essential steps to the dry brush techniques which is often cited to be difficult and challenging.

• Tips, drills and practice to achieve details and definitions in your work.

• Combination of painting techniques: why, how, when to use them for what effects?

• Adapting the techniques and find your own styles.

• Introduce to new 'must-have' colours for your palette and how to combine them.

• How to paint challenging colours such as whites, black and yellow flora.

For other workshops, course, small-group or corporate workshops and overseas creative retreats, write to us at go@within.sg for enquiries.

I look forward to a time well spent with you to cultivate your creative nature. See you soon.

May you light up within, Lucinda.


About Lucinda Law
Lucinda Law is a botanical artist, teacher, writer and Founding director of Within, a nature-led creative studio and consultancy. Within started as a nature-led creative consultancy and studio in 2016 with an objective of depicting the beauty of the nature, linking people to nature, developing a community of nature-led art patrons and supporting the cause of nature conservation through arts. Within has worked with over 40 collaborators, with a diverse client list such as Singapore Ministry of Foreign Affairs, Singapore National Gallery, Changi Airport Group, Mandai, Banyan Tree, Chanel, Leica and American Express.
Lucinda holds an MA in Fine Arts and as a self-taught watercolorist, she was later trained in intermediate botanical illustration at Kew Gardens, London. She has more than 8 years of teaching experience in tertiary arts and design institute in Singapore namely, Temasek Polytechnic, Lasalle College of the Arts and Glasgow School of Arts. At Within, she programmes and conducts botanical art workshops, courses and immersive creative retreats that brings city dwellers into nature spots to enhance their attunement with nature, creative practice and well-being. Beside teaching and writing, Lucinda create artworks that sit between analog and digital worlds, using old world watercolour techniques and modern digital expressions to express her love stories of nature.
She is currently creating a series of work which develops her growing interest in environment conservation in collaboration with botanical gardens and other environmental institutions to promote good health and well-being of people and the planet in alignment with the United Nations Sustainable Development Goals (SDG) goals.
For this year, she is working on an upcoming exhibition in ArtScience Museum and on other corporate commissions that showcase her multi-disciplinary approaches in art making. Having just conducted her next creative retreat in Chiang Mai (Nov 2018), she will be conducting her 2 Day Art, Science and Beauty Course with botanist, Bian Tan, in Kauai, Hawaii from 23-24 Feb 2019. Her upcoming courses at nature-endowed locations will be announced in March 2019.
May you light up within, Lucinda.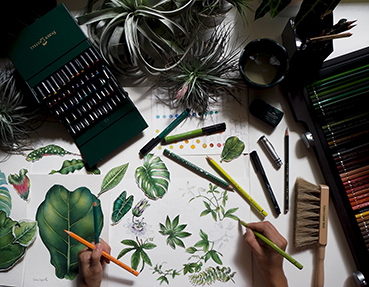 read more
Updates
The event description was updated. Diff#399793

2019-01-09 07:47:17
Sat

Jan 19, 2019
9:00 AM
-
11:30 AM
SGT
Add to Calendar
Venue

Within Studio
Tickets

Single Visit Workshop

SOLD OUT

$145.00
Venue Address

Little India, Singapore

Singapore
Attendees
2
Want to find more groups and events like this?